In Memory of Woody, 6/27/1986 (est.) - 7/27/2002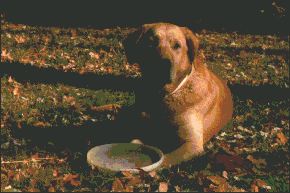 Woody at age 5

Woody was born in 1986, in either the last week of June or the first week of July, and lived his entire life at the same house in Alexandria, Virginia. At age 3 he inherited new owners when his house changed hands. Relatively late in life (at age 10), Woody became a certified therapist pet and made popular monthly visits to a retirement home in Alexandria for more than 5 years. The Reverend Will Billow officially blessed Woody at St. Albans during ceremonies for the Blessing of the Animals in fall 1998, spring 2000, fall 2000, and fall 2001.
In May and October 2000, Woody broke new ground by attending a Русский Язык class taught by Tamara Woolf. Although Woody did not learn any words of Russian (so far as we could tell), he was a very popular собака.
Following a sudden, unexpected attack of GDV on the evening of 8/26/2001, Woody underwent emergency surgery to have his stomach untwisted and stapled to his abdominal wall so that the condition could not recur. He made a miraculous, full recovery, and he spent the last 11 months of his life in fairly good health. Whew! However, a turn for the worse in the early morning hours of Friday, 7/26/2002, led to his death a day later at the ripe old age of 112 in dog years.
---
Return to Mr. Hansen's home page
Return to Mathematics Department home page
Return to St. Albans home page
Last updated: 27 Jul 2002