In Memory of Shelby, 10/16/2001 - 7/30/2015
<![if !vml]>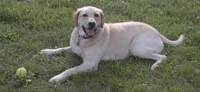 <![endif]>
Shelby Sunflower, a.k.a. the Shelbeast, on her adoption day,
8/17/2003, a little before her second birthday.

Shelby was born exactly 5 weeks after the 9/11 terrorist attacks. She came from a purebred line of Yellow Labradors, but because she was too large for the breed standard, she was not selected for breeding and ended up in the Lab Rescue program after failing to qualify as a bomb-sniffing dog. Her nose was excellent, but her willingness to follow directions was not all that it could have been. Shelby was a friend to everyone she ever met, but she definitely wanted to do things her way.

Throughout her life, Shelby was often mistaken for a male dog. Mr. Hansen's students used to love to wrestle with her in the days before such things were officially prohibited at STA.

Shelby bravely battled a number of geriatric issues for the last year or so of her life. All of them were under control by late July 2015, and she was enjoying her "golden years" until a suspicious cough led to a chest X-ray that revealed a large tumor in her lungs. She died at home a few days later, but not before saying goodbye to a large host of friends, both human and canine.
---
Return to Mr. Hansen's home page
Return to Mathematics Department home page
Return to St. Albans home page
Last updated: 01 Sep 2015