<![if !vml]>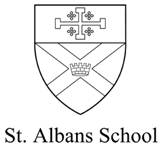 <![endif]>

St. Albans School Philosophy
<![if !supportLineBreakNewLine]>
<![endif]>
From the top of Mount St. Alban, St. Albans School looks up to the Washington National Cathedral and out to the United States Capitol. Our location serves as an embodiment and constant reminder of the School's motto: Pro Ecclesia et Pro Patria, for Church and Country. Since the School was established in 1909 by the Protestant Episcopal Cathedral Foundation, our mission has been to prepare boys to develop and use their spiritual, intellectual, artistic, and physical gifts not for themselves alone, but in service of the greater community. As an Episcopal School, we welcome and embrace boys of all faiths and backgrounds to this caring community that learns, prays, plays, sings, and eats together. We are committed to a diversity among students, faculty, and staff that shapes and enriches our shared experiences. We know and value each boy and over the past century have helped boys to grow into public servants, leaders in all fields, and citizens who live the community ideal long after they have left the School.
           We set high standards for our boys in all that we ask of them. We believe that classes should be small enough to promote vigorous inquiry, critical thinking, and spirited discourse; that our core curriculum of arts, sciences, and humanities, along with our extracurricular offerings and opportunities for international experience, develops an aesthetic appreciation for and understanding of the world, teaching boys to express themselves clearly, independently, and confidently; that our coordinate classes with National Cathedral School for Girls enhance opportunities and growth for both schools; that required sports teach teamwork, discipline, and lifelong habits of physical fitness; and that a rigorous college-preparatory curriculum paired with a creative and inspiring faculty can challenge every boy to realize his potential.
We believe that learning extends beyond the classroom, to the chapel, the athletic field, the stage, and the refectory. Essential to this belief is the community of faculty and staff, alumni and parents that challenges and supports our boys to lead lives of honor and commitment. Through precept and example, they learn that good character comes from kindness, from an open heart and mind, and from embodying what has become a touchstone of ethical behavior in the School: choosing the hard right over the easy wrong. We rejoice as graduating seniors, so nurtured by our School, charge forth from the Cathedral at Commencement, eager and equipped for worthy and sustaining lives of achievement, leadership, and service. 
             2/22/10