<![if !vml]>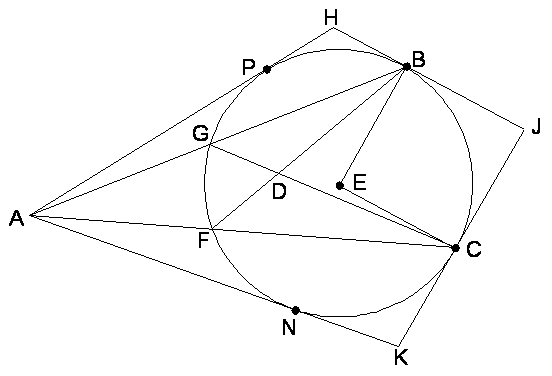 <![endif]>
Given: Circle E, <![if !vml]>

<![endif]> = 65°, arc GF = 30°, arc GB = 110°, JC = 6, HP = 3, NK = 4
Find: <![if !vml]>

<![endif]>, <![if !vml]>

<![endif]>, <![if !vml]>

<![endif]>, <![if !vml]>
<![endif]>, <![if !vml]>

<![endif]>, <![if !vml]>

<![endif]>, <![if !vml]>

<![endif]>, EB, EJ, EH, EK
Note:  The angles are straightforward, but finding the radius (EB or EC) is a bit challenging. Hint: EBJC is a kite. After you find EB (which equals EC), you should find that EJ, EH, and EK are not hard to compute.

The original puzzle had JC = 7, but the diagram turns out to be impossible in that case. Using JC = 6 as above makes everything work out.

If you would like a real challenge (probably suitable only for Algebra II students and above), try to compute AN, AP, and AE.