Welcome to the Geometry Zone
(Geometry, Periods A and B)
Web address shortcut for this page: www.modd.net/34geom
Are you nervous when you see NCWEE? concerned when you see CIRC? perturbed when you see PBC? Visit Mr. Hansen's fabled abbreviations page to make sense of those cryptic markings you see on your papers.
Schedule at a Glance (see archives for older entries)
Written assignments should follow the HW guidelines.

M 5/24/04

The scores for your Chapter 13 test are complete. The last student took this test on 5/17/2004. The 5-number summary, omitting one "outlier" score far below the rest of the scores, is as follows:

Low score = 50
25th percentile = 65
Median = 75
75th percentile = 81
High score = 100

Again omitting the outlier, the mean score was 74.4, which compares well with the mean of 73.8 on the Chapter 11 test.

For comparison purposes, the 5-number summary for the Chapter 11 test was as follows (with no outliers):

60
66
74
81
93

One could summarize the differences between the two tests by saying that the overall distribution of scores was almost identical, with the exception of a few very high and a few very low scores on the Chapter 13 test. However, one interesting difference that can be seen only when looking at the classes separately is that on the Chapter 11 test, B period's median score was 5 points higher than A period's median score. On the Chapter 13 test, the situation was reversed, with A period's median score 6˝ points higher than B period's median score.

Please check your e-mail for your personal score report. If anyone has an e-mail address for Jeremiah or J.P., please let me know.

T 5/25/04

I finally have your Chapter 12 tests finished now, too. Many of you saw your scores from the multiple choice test (Part 1) earlier, but now the free response test (Part 2) is also graded. Remember, this is the test on which I said I would count only the better half in your average.

Out of 30 students, 24 scored higher on Part 2. The median score on Part 1 was 73% (C), and the median score on Part 2 was 88.5% (B+). Surprising? Remember, students tend to have a lot of trouble with multiple choice questions in mathematics. Since more than half of your final exam on Thursday is Always/Sometimes/Never and multiple choice, you will need to work carefully through those portions of the exam. Do not rush.

There were 5 students who scored 99, 100, or 101. Here is the 5-number summary for the Chapter 12 scores that were recorded (i.e., maximum of Part 1 and Part 2):

40
76.5
88.5
95
101

Please check your e-mail for your personal score report. If anyone has an e-mail address for Jeremiah or J.P., please let me know. All tests will be available to be picked up tomorrow, beginning at about 10:00 a.m.

W 5/26/04

Optional Chapter 12-13 test pick-up, beginning at 10:00 a.m. You may also pick up your tests during the review session.

Optional review session, Room R, beginning at 10:30 a.m. The session will last up to 3 hours (i.e., until 1:30 p.m.) if there are any students still there. Come for as much or as little as you wish. People will be filtering in and out of the room (quietly) the whole time. Food and beverages will be permitted, as long as you clean up after yourself.

This session is open to students from any section of geometry. Invite your friends!

Please note that I have added some coordinate geometry proof examples to the Review Problem Compendium, as well as a copy of the exact formula sheet that you will be provided with on the exam. There is even a draft format description that shows the weights of the various portions of the exam, so that you will know what to expect.

Th 5/27/04

Final Exam, 2:00–4:00 p.m., Trapier Theater. Bring several sharpened pencils with erasers, plus a straightedge if you wish. A compass is permitted but not required. Do not bring paper or notes, since any scratch paper you bring with you will be confiscated before the test. No calculator is allowed for my students.

Regardless of what the calculator policy may be for the other sections of geometry, no calculator is allowed on the exam for A and B period students. Accordingly, you will be granted more leeway regarding the form in which you leave your answers. An algebraic form that is not fully simplified to a single decimal result will be acceptable.

The most common area and volume formulas will be provided for you in a formula sheet. If there are any other formulas you think you might need, such as the quadratic formula or the Power Theorems, you should memorize those before the exam.
McDonald's Week 2004: A Photo Essay
<![if !vml]>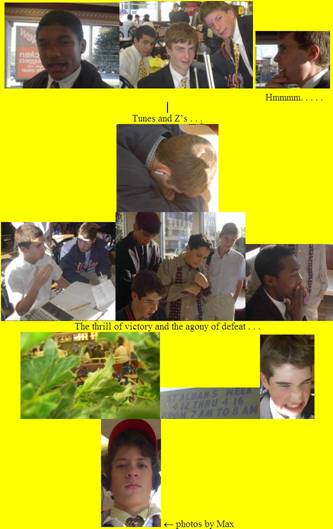 <![endif]>
Fun Links:
-- Lots and lots of online IQ tests
-- Grammar quiz (well, at least I thought it was fun)
-- Fallacious proof that pi equals 5
-- An extension of the concept of freshman cancellation
-- National Cryptologic Museum, brought to you by the National Security Agency
-- The famous three houses/three utilities puzzle
-- The amazing nine-point circle
-- More fun links on Mr. Hansen's home page
Study-Related Links:
-- Angle-arc puzzles written by the Class of 2006 (in 2003)
-- Timed math quizzes, courtesy of Mr. Errett
-- Quizzes, quizzes, and more quizzes for geometry and other math subjects (don't let the title 'Math for Morons' discourage you—that's really a moronic name for the site)
-- Proficiency test for rising 9th graders from the great state of Illinois
-- B.J. Pinchbeck's Homework Helper for all subjects
-- Practice test: Chapter 1
Serious Links (click here)
---
Return to Mr. Hansen's home page
Return to Mathematics Department home page
Return to St. Albans home page
Last updated: 25 May 2004